I'm not quite sure on what kind of plastic is used but I can tell you the structure of the keycap and the process in which they get the legend on them. I even have a picture: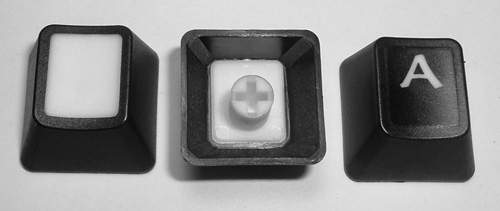 In the first picture you see the top view of a blank keycap. This shows you that the keycap is actually two pieces: an outer black piece that is the 'skirt' of the keycap, and the center piece which is white so we can print a character on it.
In the second picture, you see the bottom view of the same keycap. Notice again that it is two pieces, the center piece and the outer skirt.
In the third picture you see an example of a keycap that has had an 'A' printed on it just to complete the example.
We print the characters on the keycaps at our factory using a sublimation process. First we place all the keycaps into a blank tray. Next, we place a large sheet of paper with ink on it over these blank keycaps and put them into our sublimating machine. This machine uses pressure and heat to send the ink on the paper into the white plastic part of the keycap. This is why the characters will never rub off - the coloring is INSIDE the plastic and not just painted on top like most all other manufacturers.
This is also the reason you are able to see the color of the LEDs through the keycap. The printing pattern we use leaves the printed on letters white, and screens the rest of the top of the keycap by printing them in black. The light of the LED shines through the section of the keycap that is still white and is not allowed to shine through the black sections.
Hope this helps!