Hi mopar300m,
I have spoken with our engineer and in a nutshell this is what I have been told:
If you plan on integrating the board into a device so that the device controlls the board, we can't really help you with that because we do not reccomend it, especially if it is a blue or green board. Our main concern is that the blue and green boards already draw nearly 500mA, which is right at the spec'd limit for USB drives. We are uncertain how much the board would draw depending on how you wire up your switch or what you are trying to do with it and we don't want it to not work for this reason if you modify it this way. So although we dont suggest you do it, you still can. Here is a picture of the two transistors you would need to work with: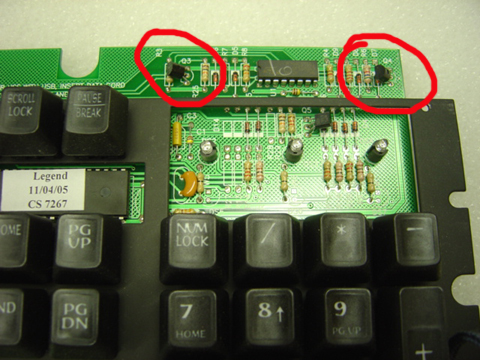 Also,
here is the schematic for the Legend keyboard
to help you with your mod.
What I have been told is that you need to wire your switch to the outer legs of the transistors, and clip the inner leg on both transistors or the board will retain control of the dimming functions. If this isn't what you want to control, then I am not sure what you can do but that is what the schematic is for.
Hope that helps, good luck!